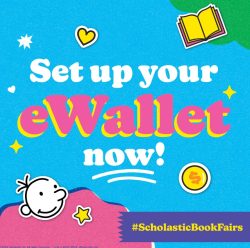 Dear Parents and Families:
 We're excited to invite you to our upcoming Scholastic Book Fair. This event is an opportunity for students of all ages to build their home libraries and further their love of reading. As always, all purchases benefit our school.
 Here's what you need to know about the Fair. We will be open October 14th-19th to students during Library time to do walkthroughs, and we will be open to parents and families October 19th 4pm-8pm and October 20th 8am-8pm.
Our Book Fair offers eWallet, a safe and secure alternative to cash. Simply create a free account to add funds and/or invite family and friends to contribute so your child can select their own books. Any unused funds can be spent at The Scholastic Store Online or to fund a future eWallet.
 If you can't make it to the Fair, then shop at our school's Online Book Fair. All orders ship directly to your home, and shipping is free for book orders over $25. Your online orders will also benefit our school.
 Visit our Book Fair homepage to learn more and get started with eWallet and online shopping:
https://www.scholastic.com/bf/oceanlakeelementaryschool1
We're excited to celebrate our love of books together at the Book Fair. We look forward to seeing your child there!
Happy reading,
Emma Roderick
Oceanlake Elementary Media Specialist
___________________________________________________________________________
Estimados padres de familia:
Estamos muy emocionados de invitarlos a la Feria del Libros de Scholastic. Este evento es una gran oportunidad para que estudiantes de todas las edades puedan construir su propia librería en su casa y al mismo tiempo fortalecer el amor por la lectura. Como siempre, nuestra escuela se beneficiará con cualquier compra que usted realice. 
Esto es lo que Ud. necesita saber. Para los estudiantes, la feria de libros estará abierto del 14 al 19 de Octubre durante la hora de la librería, y para padres y familias las puertas se abrirán el 19 de Octubre de 4pm-8pm y el 20 de Octubre de 8am-8pm.
Nuestra feria de libros ofrecerá una alternativa al efectivo, eWallet es un método seguro y confiable. Simplemente crea una cuenta para agregar fondos e invita a familiares y amigos a contribuir, así su hijo(a) podrá seleccionar sus propios libros. Cualquier cantidad que no se haya usado puede usarla comprando en nuestra tienda por internet o puede usarse en el futuro para crear otra eWallet.
Si no puede asistir a la feria, entonces haz tus compras por internet.  Todas las órdenes serán enviadas directamente a tu domicilio, y si tu orden es de $25 o más el envío es gratis.  Tu compra beneficiará nuestra escuela. 
 Para comprar, aprender más y crear tu eWallet, visita nuestra página de internet. 
https://www.scholastic.com/bf/oceanlakeelementaryschool1
Estamos emocionados de poder celebrar nuestro amor por los libros junto con ustedes. ¡Esperamos verlos! 
Feliz lectura,
Emma Roderick
Oceanlake Elementary Media Specialist