North Area Bell Schedule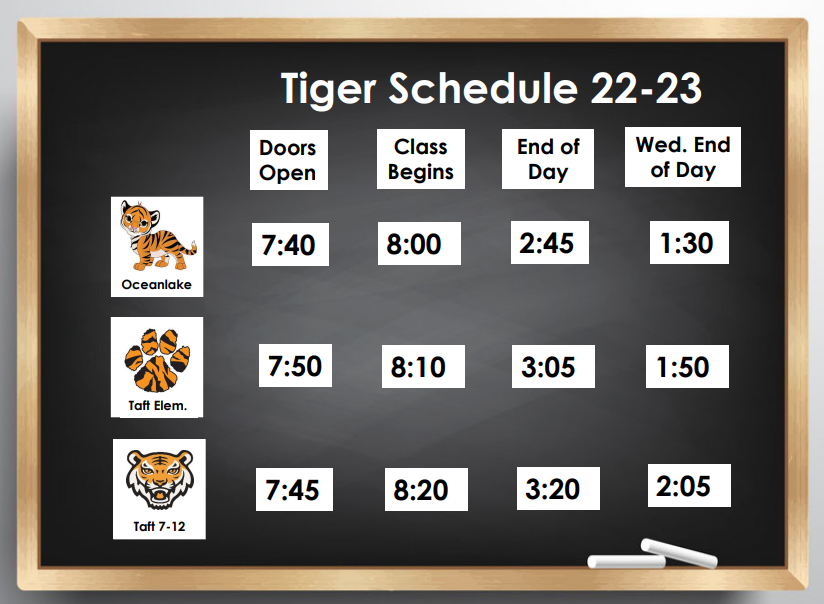 ---
Arrival/Dismissal Procedures
Arrival: Arrival procedures begin at 7:40am for buses and for parent drop off. For parent drop off, please join the parent drop off line with your vehicle and follow the arrows in the parking lot. When you get to the front of the line (first 5 cars) a staff member will open your car door for the student to exit. Please be patient as we adjust to returning to school, the process will go faster after the first few weeks.
Dismissal: Dismissal procedures will begin at 2:45 (1:30 on Wednesdays). The buses will be dismissed first, then we will begin parent pick up. This process is the same as arrival, please join the line with your vehicle and follow the arrows in the parking lot. We will be loading 5 cars at a time. When you are in line on NE 22nd street, please do not block the parking lot exit, this allows loaded cars to exit.
Good Attendance
Attending school regularly helps children feel better about school—and themselves. It's never too late to begin building this habit. Going to school on time, every day is important and good attendance will help your child do well in high school, college, and beyond.
Dear Families;
Consistent school attendance is critical to student achievement. Did you know that when a child misses ten percent of school they are far less likely to meet grade level goals in reading, writing and math? Ten percent doesn't seem like a lot – it's less than two days per month – but it makes a big difference at school. Poor attendance is directly related to school drop-out. We know you have high hopes for your child and we do too. Together, we can set them on the right course.
We need your child here every day. When we are all here our school family is complete. You received a magnet of non-school days for this school year at registration. Please consult this list when scheduling doctor appointments, family visits and vacations. If there are issues that are preventing your child from coming to school (childcare, illness, family conflict), PLEASE tell us. Tell your child's teacher or another staff member you trust. We may have resources that can help. We cannot help, if we don't know. Use the magnet to track how many absences your child has had. Simply mark an X for each day your child has missed. Remember 9 or less is best!
Improved attendance is a top priority at Oceanlake Elementary. Our staff are engaging in new efforts and interventions to make sure our students are here every day. We hope you do not feel like we are nagging. We will however be persistent. We hope you will work with us to ensure your child's success!
GO Tigers!
Sincerely,
The Teachers and Staff of Oceanlake Elementary