Volume 2, Issue 6, March 2019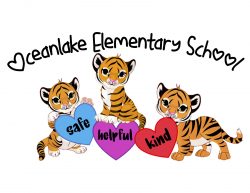 Our School Family Newsletter
Great Body Shop
THE GREAT BODY SHOP is a health education curriculum designed to provide students and families with the knowledge they need to make healthy choices throughout their lives. Monthly, for grades K-2, Student Issues are sent to the school to be used in the classroom. The Student Issue looks like a health magazine and is used like as a periodical or informational text. Teachers and students work with the instructional materials, typically once a week, to provide a solid understanding of the health issues found in the magazine. At the end of the month, students take the Student Issue home and use them for family activities, discussions and homework. In this way, one Student Issue is able to educate not only the student, but support the family as well. If you would like to learn more about the health topics at your child's grade level, please contact your child's teacher or visit www.thegreatbodyshop.net 
Important Dates
Hearing Retest March 5th

Dragons Loves Tacos – Cultural Center March 7th

Reading Night March 7th 

Parent Education Class March 21st 

Spring Break – No School March 25th through March 29th 

Friday's Tiger Pride (wear your t-shirt)
Attendance Rating
The regular attenders rate for Oceanlake is 72.89%. Regular attenders are those students with 90% or better. Our goal is 80%.
To help reach our goal, please remember that we only exclude students if they experience fever, vomiting, or diarrhea. Let us know how we can better help in getting your student to school each day!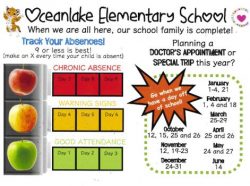 Please consult the above magnet of non-school days when scheduling doctor appointments, family visits and vacations. We have extra magnets at the office. Remember 9 or less is best!
Student Safety Team
Did you know that Oceanlake Elementary has its very own student safety team?
Students that choose to be a part of the student safety team make a pledge to act as examples of safety at our school. They assist with modeling safe behavior and reminding others to be safe in the classroom, hallway, cafeteria, bathroom, specials class and on the playground.
We have our new safety team members for this month:  Caroline, Hunter, Michelle, Gracee, Jocelyn, Valeria, Kaia, Addie, Jordan, Rineheart, Krista, Jerimiah, RJ, and Olivia.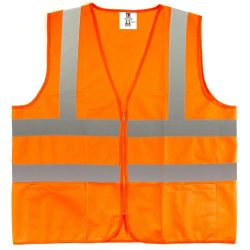 Coffee with Specialists
You are cordially invited to Oceanlake's first School Family Coffee with Specialists! Do you have questions about our Title Reading, School Counseling, and English Language Development programs? Do you have informal wonderings about Special Education supports? Whether you have these questions, or would simply like to learn more about all the wonderful things happening at Oceanlake this year, we hope you will join us on Friday, march 15th from 7:45am to 8:45am for coffee and conversation! If you are unable to make it at that time, there will be another opportunity in May.
Parent Education Classes 

You're invited! Our next class is March 21st. Our focus will be empathy.
Classes begin at 5:30 PM and end at 6:30 PM. Snacks and daycare will be provided!
Thank You's

 
Big thank you's to everyone supporting:
…..all Oceanlake students attending Dragons Love Tacos performance at Lincoln City Cultural Center on March 7th 
…..the Parent Group
…..the Sponeburgh Foundation 
…..Music is Instrumental 
Thank you for your continued support!
Past Newsletters